What are the significant benefits of hotel management software?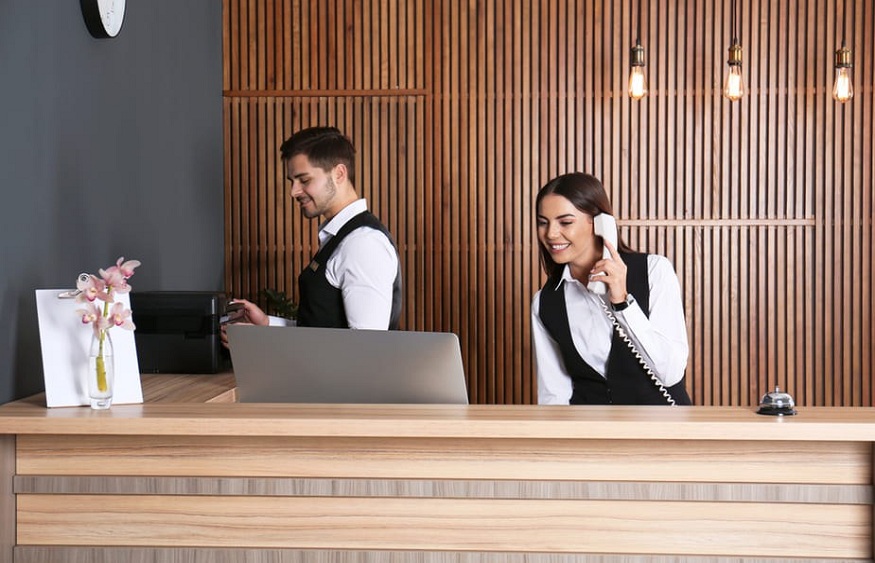 A hotel management system soft is a set of some hotel software that are used to keep the operations of a hotel smooth and rush It has software for different types of tasks for example: these hotel management systems have software to maintain their accounts, customer-relation management package and many more industry related that help in various task of hotel management and its day-to-day tasks. This PMS software can be of two types:
On-premise PMS– Also known as a property management system, on-premise PMS software allows a hotel or group of hotels to manage some front-desk capabilities like check/outs, reservations, booking, room assignments, room rates management, and billings.
Cloud-based PMS– It is a type of property management system that allows property manager to access their property management data and software from anywhere and anytime. It helps in remote working, team member collaboration, & real-time updates.
There are various benefits of using hotel management software and some of them are given below as follows:
TIME SAVING:The amount of time you spend on manual managerial duties would be significantly reduced with the correct hotel management software. A large number of the labor is handled by the program, which makes time for you to focus on other crucial activities like serving your guests.A hotel management system will be having a greater impact on all of your property's departments than any other type of software you utilize. housekeeping, front-of-house, and revenue management In practically every aspect of your organization, you may save a lot of time by choosing the correct solution, which will also increase employee happiness and productivity.
GUEST RELATIONSHIP:Your guests will be happier if your check-in and check-out process would be easier than usual. And it's just the start; everything from new services to enhanced communication these things will increase customer loyalty. Selecting the most effective property management software will probably result in higher levels of worker and guest retention.
ONLINE VISIBILITY:Choosing the correct software is crucial to building your internet presence. Your website design can incorporate customer-facing tools, such as hotel booking engines, chatbots, and a guest portal, allowing you to rapidly take online reservations and giving visitors confidence in their decision to book directly with you.Websites with a better user interface and journey will rank high on Google searches along with other search engines since Google prioritizes and evaluates the user experiences on websites.
REVENUE MANAGEMENT SYSTEM:To make the maximum revenue, most hotel management systems have the power for pricing and other features.The days of having only a high season cost and a low season price are long gone. If you aren't arranging prices in an advanced manner, you're missing out on bookings and not maximizing the number of guests who do book. The ability to develop and modify product rates, price dependencies, and unique offers and policies like package rates should be available.
DISTRIBUTION FUNCTION: A modernized hospitality cloud must be able to quickly connect to a network manager, allowing you to market your company across a variety of platforms OTAs, and third-party booking systems. It offers real-time data that can assist you in increasing the amount of reservations and promoting your property.
BOOKINGS: Every function in the hotel management system ought to increase the total amount of reservations you receive. The ideal software system is centered around maximizing and optimizing what you can accomplish, whether your goals are to expand into new markets or increase bookings during off-peak periods.The obvious tools that will assist you in this area are revenue control and an online reservation engine, but all that from integrations to intelligent reporting and management will ultimately help.
DAILY REPORTS:Thanks to data-savvy hotel management software, the revenue, finance, and management teams will have access to precise daily earnings reports.You and your team will be able to make dependable, data-driven decisions throughout your whole company with the aid of operations and marketing reports.If anything is in the cloud, there is no need for time-consuming manual exporting and compiling because these priceless measurements are always available whenever you need them.
LESS ERRORS: Software for managing the hospitality industry is designed to prevent multiplebookings and overbookings. They also assist front desk staff in preventing mistakes while entering crucial customer information like name, passport information, and card numbers thanks to job automationBetter customer service (no awkward follow-up conversations inquiring for their exact details), more staff time to focus on their crucial tasks, and more trustworthy organizational data and reporting are all results of this.
ANALYZING CUSTOMER BASE:Another significant advantage of the best guest management software system is market and visitor segmentation. The Guest Manager and Marketing Managers can maintain tabs on the various visitors' demographics, including their age, gender, and country of origin.You can even decide your marketing plan with the given data's help. And the company's long-term revenue trends will improve.
PROPERTY TRANSFORMATION:The many advantages of a system for hotel management may enable you to quickly expand your company. Moving to a more up-to-date program could help you realize significant improvement very instantly if you're not yet using the proper solution.This can induce a mentality shift and change the way you and your colleagues work, providing long-term benefits that go beyond the day-to-day use of the system. Here are a few instances of how these attributes were improved by switching to the appropriate hospitality cloud.
Hence these were some of the benefits of using hotel management system software. If used correctly and appropriately they can help hotel managers maintain their records and by being frequently visible on the internet it can also increase the review and ratings of the place.
The PMS software have made work easy for people who have a lot of tasks to do and can't be available on the sites physically every time. And so this becomes the time where everything is under their presence that too being far away. It is easier to manage people and work from distant places as well.